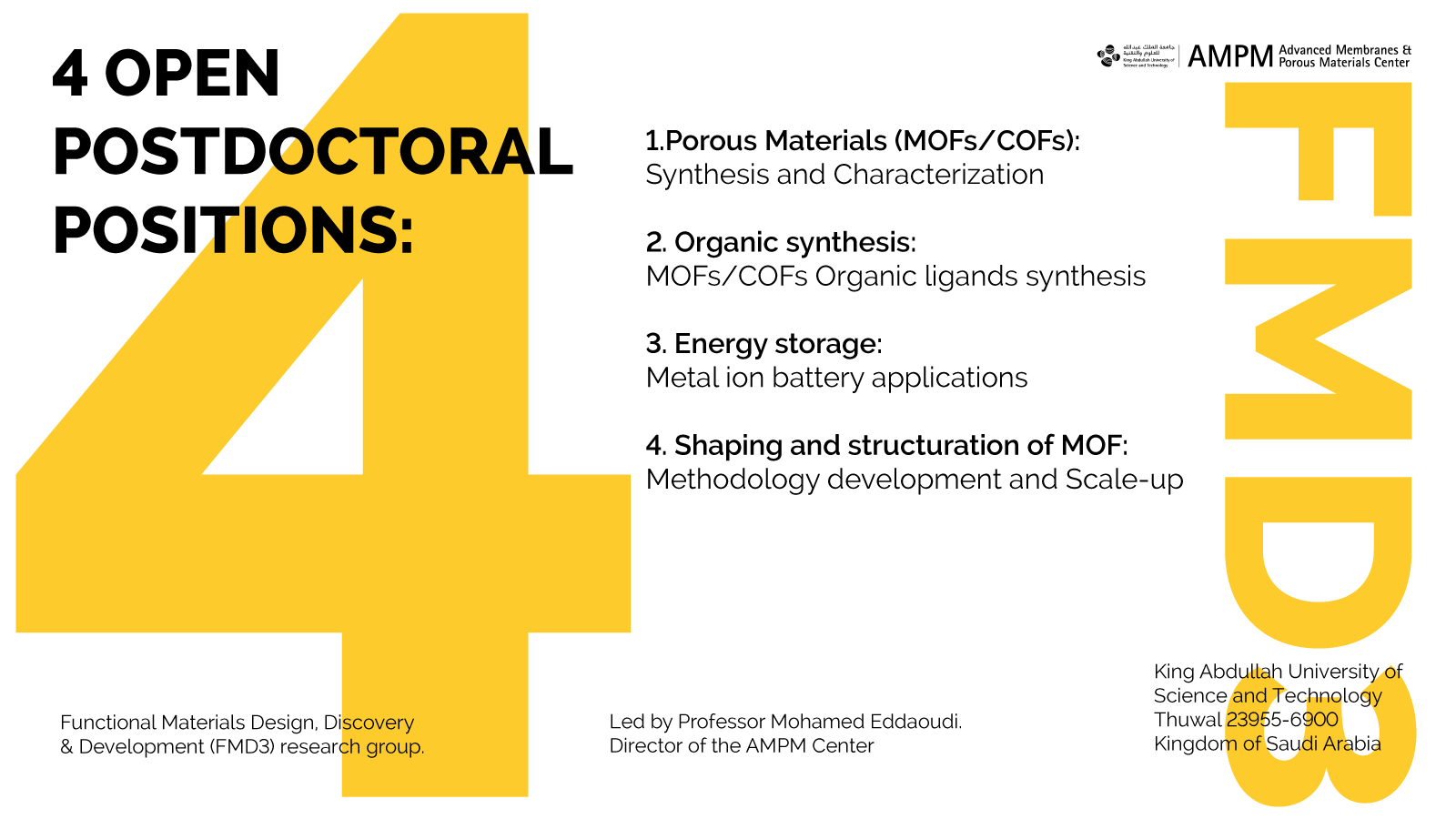 4 Postdoctoral Positions Available
Four postdocs are sought to work in the Functional Materials Design, Discovery & Development (FMD3) research group, led by Professor Mohamed Eddaoudi at King Abdullah University of science and technology with research experience in the following areas:
Porous materials synthesis and characterization like MOFs and COFs
Organic synthesis: like MOFs and COFs ligand synthesis
Energy storage application of porous materials
Shaping and structuration of MOF: This would involve methodology development of shaping MOFs as beads, laminates and monolith and scaling up of developed methodology for a large scale shaping (kg)
The successful candidates should have a degree in Chemistry, Chemical Engineering, material science, or related fields
Please send your CV to: mohamed.eddaoudi@kaust.edu.sa, osama.shekhah@kaust.edu.sa, vincent.guillerm@kaust.edu.sa and prashant.bhatt@kaust.edu.sa
*Remember to specify in which position(s) are you interested in.
Applications will be reviewed on a rolling basis and will be taken into consideration until the positions are filled.
A generous compensation package will be offered that includes, competitive tax-free salary, free on-campus housing, health insurance.
About our group:
We conduct multidisciplinary research focused on the design, discovery, and applications of porous functional materials, such as MOFs, with prospective applications in various fields pertaining to gas storage, separation, sensing catalysis, and emerging energy storage. For more info, please visit: http://fmd3.kaust.edu.sa/
About KAUST:
KAUST is located on the Red Sea near Jeddah, Saudi Arabia. Opening in September 2009, KAUST welcomes exceptional researchers, faculty, and students from around the world. Further information can be found at http://www.kaust.edu.sa/